– Feature Guest Post by 
David Reddel –
Have you ever heard the sound of hope? Perhaps smelled, the smell of victory? Have you witnessed indescribable joy?
Today, I experienced all of those. Let me share with you the indescribable.
Today, I climbed to the summit of Mt. Quandary, Colorado. Reaching an elevation of 14,265 ft, with a hike of 3.2 miles one way, this hike is not incredibly unique for one of Colorado's many peaks. Today's hike, however, was an experience never to be forgotten.
You see, there was nothing normal about today's hike, for today, we carried a paraplegic with us.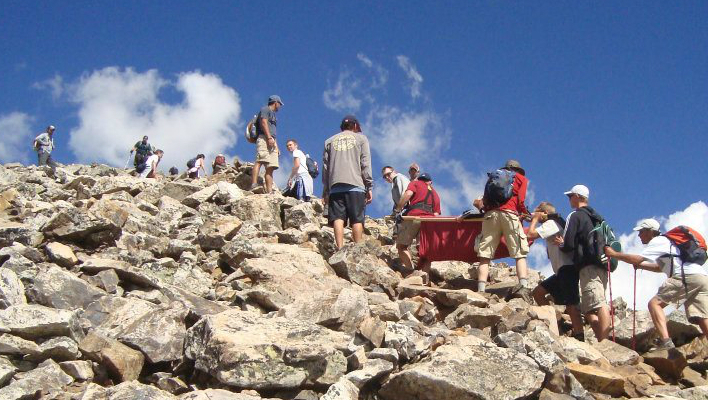 Alex, a 14-year-old in my youth group, suffers from Cerebral-Palsy. CP interferes with the nervous system, inhibiting the muscles from receiving the signals from the brain. As a result of CP, Alex is wheel-chair bound. Desiring for him to be able to join the men on this Peak Challenge weekend's men's retreat, it was decided we would carry him up the mountain with us.
For most of the 125 men on this retreat, they had no idea this was the plan until last night, around 9pm. Roughly 40 guys volunteered to help carry Alex, a choice none of us knew the full impact of.
So, we carried him up!
All 4 plus miles and 4,000 feet of elevation gain. The journey was a challenge. With nearly 40 guys, we rotated which two carried him nearly every 100 yards.
Along the way, other hikers asked what we were doing. They were shocked, and some moved to tears. Upon reaching the top, roughly 150 other hikers (not part of our group) exploded in applause and celebration. It moved me to tears to hear the celebration of these strangers. Many came over to Alex to congratulate him. He was the most popular man on the mountain.
Words cannot express the amazing power of this experience!
It is not about the work we did, nor the way people responded. The incredible, speech-taking part was the hope instilled in so many. Some were moved to tears, others received new hope in humanity, while others still wanted to know what God would be so inspiring that we would do this.
Most of all, the hope and joy instilled in Alex. His smile could have been seen for miles.
In sharing this with you, I know it is nothing compared to the experience. Yet, I hope you see the second part. This is a story of unity, of fellowship, of selflessness, of perseverance, and most of all, of hope. When we as the church decide to rise up, come together, and love, we can do incredible things. Things that change hearts, change lives, and change the world. We can move mountains (or scale them) when we gather together in the name of Jesus and His love.
So I pray you are inspired by this to go and love, beyond your means, that the world may be filled w/ the sound of hope and praise rising up.
Want to attend Peak Challenge 2015? Early registration ends May 15th! Sign up today!
---
Peak Challenge is an annual opportunity for men, their sons, fathers, brothers and friends to get away from the everyday routines in life and to experience all that God has for them in a wild setting – the Mountains of Colorado. This years challenge takes place July 30-August 3, 2015 near Lake Dillon, Colorado.
Click here to learn more about Peak Challenge 2015 and see how you can get involved today.