Before I go too far, I first want to say a huge THANK YOU to everyone for supporting and following Manturity.com. 2014 was an amazing year of growth for us and we couldn't have done it without a lot of prayer, your support and strong coffee.
God really took Manturity into His hands this year in the middle of March. I had been reading through some ugly statistics in a Men's Health magazine about men and their issues with lust and adultery. The article was overall good, but it didn't offer any solutions to the problems. A couple of days later I came up with my most popular and also my most controversial post of the year. The post was featured on multiple sites, has stirred hundreds of comments and has nearly 500,000 views just on Manturity.com. God really went to work in the hearts of men and women with this article. I encourage you to read it again.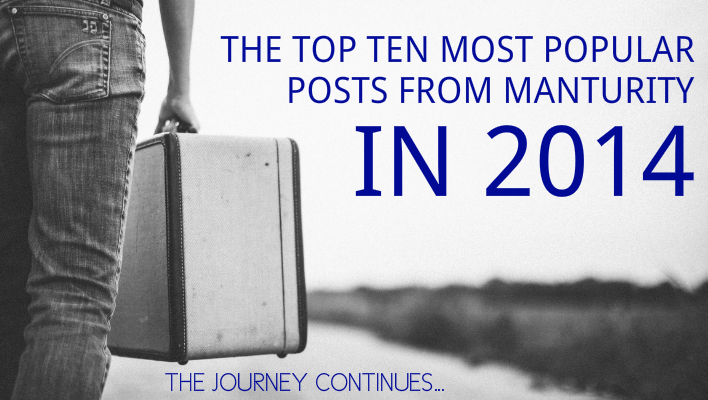 (Photo by LightStock.com: Faith focused, Cheesy-Free Stock Photos)  
Here are the Top Ten Most Popular Articles from Manturity in 2014.
The #1 and Most Popular Article in 2014
1) 5 Things Every Married Man Should Do Around Single Women
This powerful article features simple, yet effective ways to keep your marriage strong.
2) Marriage, Manhood and Social Media
An independent article I wrote featured on StartMarriageRight.com.
3) Why Married Men Must Dump Their Secret Crush
If you're struggling, then this is the post for you!
4) 7 Awesome Ways to Surprise Your Wife in 7 Days
A great challenge that only takes a week and your wife will love!
5) 8 Things You're Doing for Women other than Your Wife
Review each area and make sure your wife is getting your best!
6) 8 Foundational Attributes of a Husband
A must read guest article by Jeff Perry with great scripture references.
7) Romance Might Just be Overrated… And Why That's Ok
A challenging guest article by Tobi Atte with some great discussion.
8) 5 Reasons Married Men Should Not Seek Marriage Advice from other Women
Not sure where to seek advice? Start with this post guys!
9) 5 Ways to Love Your Wife When She's Not Looking
Guest author Kevin Schouten gives a hard punch to every man that reads this!
10) 3 Ways to Ensure Your Wife's Respect
An encouraging guest article by Stephen Miller.
I think it's important to point out the fact that all of the most popular articles fell into the category of marriage. This not only tells me how important marriage is in the lives of men these days, but also tells me where I need to focus more of my writing. In 2015, I will certainly continue to write and focus on manhood and maturity, but marriage articles will definitely be a topic more discussed.
As I look forward to another great year, I wanted to let you know that I have some bigger plans in the works. I am currently co-writing a book on marriage with Jody Burkeen of Man Up God's Way. This book aims to give practical advice to the general questions men ask all the time about their marriage. The book is currently in the works and I will send out some updates in the coming months!
I would love to hear from you! What articles did you like or dislike? What are some topics you would like to see more of this year?
THANK YOU again and have a fantastic New Year!