–  Feature Guest Poem by Jonathan Beam  –
Amazement in this underground composition
Composed at the drop of a hat
In dyer effort to reconstruct self institution 
Only takes a subtle slight of hand
And here I am lord waiting
Here I am Satan, I'll meet you on land or sea
I bore my pain into the painting
And I made the frame with memories
Half remembered like the ghosts
Half here and half in heaven
Just a rambler without a coat
Who disappears at his own mention
Appearances in all the forgotten places
The traces of a man who's known
Everyone for at least a day
But has always gone on alone
Shakespeare quotes fall short
But are traces of that one who's gone
Over every page, verse, and word until it hurt
Until all the words blended into one
Salvation.
And that one, just a ripple in the sea
Here I am Satan, right where I've been
Quiet, waiting patiently
Lord be with me while I face him
Guard me in your armor
Guard my mind and ground my feet
Give me courage and your words
So whatever I face I may defeat
Because it awaits me like a lion
Waits on me to slip up
And he goes back and forth trying
To remember who he once was
Dictators' speeches fall apart now
Just traces of hate disguised in love
Those words still infect the cells
But the patients still seek only one
Salvation.
Here I am devil, Satan, Lucifer
I am standing grounded in the street
I've been staring so hard my eyes have blurred
But I think you've been the one waiting for me
It's time to have it out
It's time for one of us to win
And bout after bout after bout
Blood pouring but not enough not to live
Then I'll remember God, and say
"He's saving you for himself;
And saving me oh, amazing grace"
And I'll know how I no longer need myself
And death, and life, and all
Will be right, and I'll finally be done
When my longing spirit no longer crawls
Then I will know I've finally begun
Salvation.
____________________________________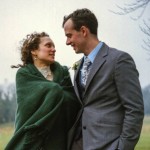 My name is Jonathan. I am a husband, writer and aspiring musician. I enjoy playing music and spending time with my beautiful wife.
Click HERE to check out some of my music on SoundCloud.