–  Feature Testimony By Chris Craig Sr.  –
Hi, my name is Chris. I was the fifth of six children born into an Irish/Italian, Roman Catholic Family. I grew up going to Catholic school until 4th grade when we moved to another part of Virginia. I was the typical Catholic kid, until my unquestioned loyalty and beliefs were taken from me, in a face to face confession with one of our priests. I was between 15-16 yrs. old, over-weight and very socially unaccepted, unless I was being funny or singing. The perfect mark, for what we know today as a predator. After that Church held nothing for me. It was something that my parents made me attend, and the farther I sat in the back, the better. When you grow up catholic, it is instilled in you that the "pecking order" was GOD-the priest-your parents, then you. And you never questioned the order or information that came down from that order. But when it felt wrong to me, on that particular day, I didn't care if that guy was the President. I told him to take his hands off of me or I would kill him. Then and there church was over for me. I played along for my parent's sake until I turned 18. That's when I took Gods Wonderful Gift, my voice, did everything I could to become "eye appealing" and started my trip to what I envisioned as "The Good Life".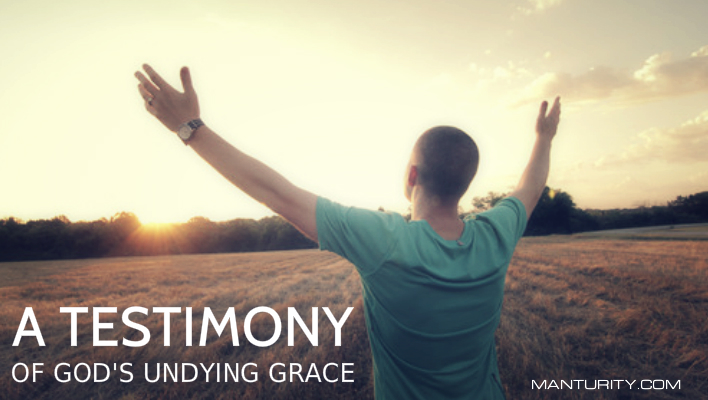 (Photo by LightStock.com: Faith focused, Cheesy-Free Stock Photos)
I dropped a lot of weight and started performing with my voice, as well as, my new found looks, enjoying what I thought was the life I wanted more than anything. I was going out every night, no rules, liquor flowed and pleasures of the flesh were plentiful. At the age of 20, I started working on a cruise ship, doing more than men in their 30s-40s wished they had done. I was "religious lost" and relied on what I thought was strong faith, that something or someone was up there looking after me. I said a "Hail Mary" and an "Our Father" before I sang anywhere and always wore a cross around my neck. To me that was enough.
I spent the late 80's to 2000, in a blur of every kind of sinning you could think of. I found out why I was losing weight, a Crohn's Disease diagnosis in 1993, with 4 major surgeries to follow. 2 failed marriage attempts, one that produced a boy who was cursed not only with my full name but mostly looking like me. We have no relationship to this day, and he just turned 20 and wants to make a living doing guess what, The Performing Arts. He looks for guidance from everyone, but me. I guess I can't blame him for that.
As the life on the road was getting harder and I wasn't getting any younger. I started thinking about giving it all up around 1999. My hair was moving elsewhere and my middle section couldn't make up its mind whether it wanted to put me in the hospital or just make me pay for all that I so lovingly shoved in it. It started not to matter whether I sang for 175,000 people or 5 drunks at a karaoke bar. So on a snowy cold night in December, the tour bus pulled into the parking lot for yet another gig of going through the motions or singing, being adored by typically drunk women, and getting paid for it. But this night would change my life forever and help save it in the process. It's the night I met my present wife Beth, and oh what a present I got that night. January of 2000, I left the "Road Life", and after burning up the phone lines and finding out her life was as just as spiraling as mine was, May 12th we were married. She moved her daughter, who was 6 months older than my son, left all of her family and comforts and started a life with me.
To this day and forever more, I credit still being alive to her and Gods good graces.
Until the past 2 years we have both lived as "religious lost", even at the request of both sides of our families. We were determined that "strong faith in God" would see us through. It saw us through all right. It saw us through the loss of my oldest brother and best friend Charlie, less than a year after we were married. We encountered more financial problems than sand at the beach, which we are still trying to overcome. 2 more Crohn's Disease operations that total have removed 11+ ft. of my intestine and colon. But we got to enjoy a bright spot after my surgery in the last part of February of 2002; we were blessed with the birth of our son Jacob Lee on March 11th. But that, as you know, comes with its own set of financial responsibilities. I had trouble maintaining gainful employment because of my health. I never went to college because I was too busy being "a star" those outside jobs were just to support my singing. I guess you could say that I'm a "jack of all trades-but a master of none". I've worked for the school system and even been a County Deputy Sheriff, until my last Crohn's surgery in 2007. That's when my fight for disability started. As it was in the beginning of our relationship on through today, Beth being a County teacher is what has truly kept our family from utter demolition. I made money where and how I could, but a bread winner was Beth's title.
Then one day my 42nd birthday, I guess it was time to see what I was truly made of, as a husband, a father, a man. And it didn't matter how much I volunteered with Special Olympics, helped Beth at school, supported the kids in their activities, etc. It was time to pay up!! I was diagnosed with Staged IV Squamous Cell Carcinoma, Throat Cancer. Needless to say, we were devastated. So many things go through your mind at that moment-"I'm going to die", "How am I going to tell Beth and the kids", etc. So I did what I thought was the right thing and I put on a strong face and said, "I don't have time for Cancer, I have too much still left to do" and "This doesn't change anything, I can beat this!" But when 3 doctors sat across the table from Beth and me and said that I was going to die. There were no words I could say but, "The time for talk is over, let's get started with the treatments". So after the knots in our stomachs let up a little and the pre-screening tests were finished, I started the most aggressive treatment that I could get; 35 radiation treatments along with 3 chemo-treatments. I had 2 stomach tubes put in and we began the fight. My beautiful 1st grade teacher wife was given a crash course in nursing and had to take a "leave of absence" from her job, right at the worst part of the year, the last month of school. It tore her to pieces having to leave those kids, after giving them a year of instruction, and not being able to see them to the end.
My first chemo and radiation treatment was at the beginning of May 2011. The last one was on June 24th 2011. They were the worst times of mine and Beth's lives. I was deathly ill, Beth had to not only nurse me 24/7 but take care of the kids as well. I had to go to the hospital every day, Monday thru Friday for radiation therapy, unless they admitted me, which happened a lot. It was my second home. I spent 2 months in there at one time.
This is where things got exciting, for the good that is.
It was the night of June 2nd and I was in the hospital, on the Cancer wing 2nd floor. I could hardly move on my own, much less get up to use the bathroom. But I was violently getting sick in a trashcan and I made myself get out of bed and go to the wall beside my bed. I put the trashcan down on the floor and put my hands as far up on the wall as I could. With my forehead on the wall, as I was getting violently sick, I started praying. For what I thought was the first/last time in my life, I was praying. I remember it like it was yesterday.
I said, "God, I know that I have hardly ever tried talking to you, and it was probably for something that I really didn't need anyway, but you are the only one that I think can help me now." "I'm not strong enough to fight this on my own." "I tried to put on a strong face in-front of everyone, but I can't do this anymore." "I need to put it all in your hands, and if you say that this is it, I'm fine with that, but if this isn't the end then please show me the way." "Whatever you say goes." "Please help me Lord." "I know that you won't give us anything that we can't handle." "I turn my life over to you, and ask for your grace and help." "My life is yours, as it's always been; I was just too blind and deaf to understand."
And at that moment an indescribable calm washed over me. It felt like a HUGE wave hit me. I stopped getting sick, turned around to my bed, took two steps, not shuffling, laid down in my bed with all the tubes and wires and actually rested. That was something that I hadn't been able to do for a long time. That was the turning point. From that point on things seemed to progress, for the good. When they gave me my follow-up PET scan, all of the Cancer was gone. That was a month after my last treatment. The doctors said that I would be able to talk with some therapy and time it would come back, But my singing was done, and they were sorry, but I had fought and won, and should be happy with that. But I wasn't satisfied with that. God had given me this wonderful gift of singing and I wasted it. So, I WAS going to sing again, and started to do it 4 months after my last treatment. I wasn't even talking and swallowing too well then, but I was singing. Granted, I wasn't as strong as I once was, but with time it is coming back. Just like my swallowing and talking has.
During Christmas 2011, I started making good on my promises to God. A very dear friend of mine and co-worker and close friend of Beth, Gina, had invited Beth and Jacob to see her kids, in their church Christmas program. They had such a great time we went as a family on Christmas Eve Night. When we got there, Gina had saved us seats in the 2nd row. No lying, I was sweating. I thought that I was too close for comfort. But as the choir started singing, a feeling of belonging swept over me and I knew that I was in the right place, for all of us. We haven't stopped going and we are now members of Cornerstone Assembly of God.
And if things could not get any better, Jacob was at New Year's Eve service with Beth and Katie, and two young ladies got baptized and Jacob looked up to Beth and said, "Mommy I want to do that, can I?" On February 5th, of 2012, Jacob was baptized, saved and so was his dad.
The learner became the leader that day. [Tweet That]
Since then things have been a rollercoaster of trials and tests. Within the past 2 years due to my cancer treatments, I have begun to have seizures, slipped into a coma for 3 days, and have been hospitalized many times. My faith has truly been tested and recently I had myself committed to a psychiatric ward for treatment for depression and anxiety problems. On Oct. 1st, 2013, I then again had a REAL heart to heart with God and as always he was there. It was the 20th anniversary of my Crohn's diagnosis and the 20th Birthday of my estranged son, and I was in a hole that I couldn't find a way out of. So I went to my room alone and asked for God's help. The first thing I heard was "Look Up, That's the way out of the hole!" I then asked for God to show me how to know him better. And in his undying grace he gave me the words to a song, right then and there. The thoughts were coming so fast that I laid down on the bathroom floor, in my hospital room and wrote, "Show Me How to Know You". Within 2 hours it was done and I was at peace enough to rest. I was released a few days later and am back at church with my family, hoping to use my "Gift" to praise God's name, the way I was intended to use it.
Our God Is An Awesome God!!! And I Raise A Joyful Noise To Your Honor And Praise!!! I Am Grateful For My 2nd Chance!!! I Will Not Waste It This Time!!! I Love You God!!!