So be honest, how much time do you really spend looking at your phone, checking out apps and just scrolling? I can admit, between Manturity, work and just leisure time; I can spend a good amount of time on mine.
I'm starting to think that an occasional fast might not be a bad idea. And if you don't think a fast will work, then maybe you just need to find an App that will actually help you in your daily relationships and in your walk with Christ.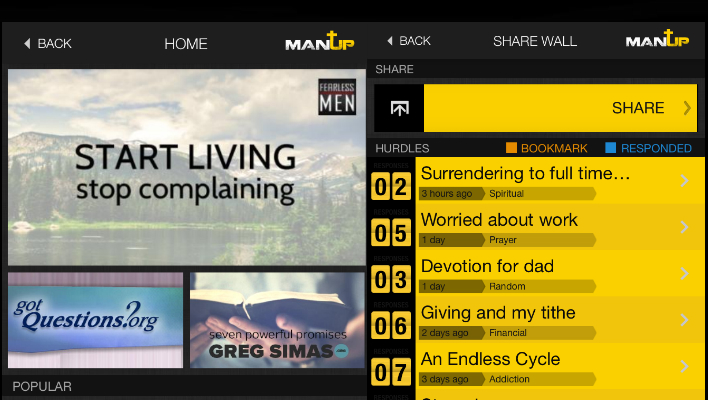 Some of you may have already downloaded the Man Up Leadership App. For those of you who haven't or maybe pulled off of it, here are 5 Reasons why you need to get re-engaged in the App.
1. Official Partnership
I have officially partnered with Man Up God's Way to make sure there is new and fresh content every week. In the past, I assisted with some resources, but played a very small role. No more. Man Up God's Way and Manturity.com are here to stay, therefore, the App is going to explode.
2. Men Specific Content
The Man Up God's Way App is an environment built specifically for men. All of the content featured is from some of the best resources for men on the web. From Kenny Luck, to Derwin Gray to Darrin Patrick; the content is power packed and ready to change your heart.
3. Anonymous Sharing
One of the most popular sections in the App is the Hurdles section. What makes the Hurdles section so good? Share what you want, however you want and no one will ever know it was you. Having marriage troubles? Share about it. Having issues at work or struggling to find work? Share about it. Just need to share your heart? Share about it today. You'll find real men giving you real answers and advice to your problems. Dig in…
4. Get's You Away from Distractions
You know that App you keep using that's wasting your time? Or how about that App you're using where you think your getting away with seeing things you shouldn't be looking at. You don't need to tell me about it. If you have to be on your phone, make it effective. Engage in quality, well written articles. Review weekly questions and actually learn something. And help out other men that might need knowledge or advice only you have to offer.
5. Be Challenged!
Sure, work is a challenge, your marriage is a challenge and general life is a challenge. But, if you're honest with yourself, are you really challenged in your everyday walk as a man or in your daily walk with Christ? The Man Up App features a weekly challenge for every man to review, accept and live. Download and accept this weeks new challenge!
So stop wasting time on useless games and media and engage in the App built specifically for men.