A war zone is a place known to contain dangerous amounts of heavy artillery; artillery that could take you out in a moments notice. I'm not talking about guns and ammo, instead I'm talking about the type of artillery that could take out the heart of a man.
Men, everyday we're faced with war zones and it's up to us if we're going stand up and fight for our hearts and the hearts of the other men around us. Some war zones hit us with unexpected force, others should be expected. The question is whether or not you will choose to face that war or whether you will choose to avoid it.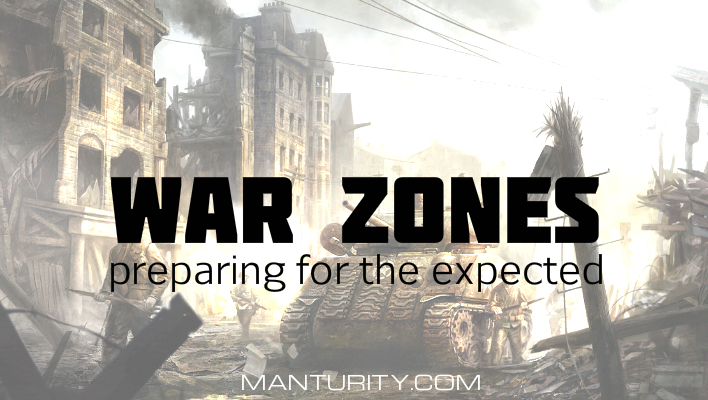 FACING ONE OF MY WAR ZONES
I, like many of you, have to go to work everyday. We do it to support our families, our interests and ourselves. And with work comes war zones. Some of you may not even realize your war zones, but for me, I realized it last week.
You see, everyday I have to go to work at the same location. I am required to walk to certain areas everyday to make sure my work areas are clean and under control. Now as I walk into the building, I am faced with multiple paths to get to the areas I need to go to. And, last week, as I went to turn down the first corridor, I realized I was putting myself in a war zone. I actually stood still for a moment and heard God speak. He was showing me possible solutions to the war zone I could possibly face.
What was the war zone? Well, if I choose to go down a certain corridor, there is a 95% chance I'm going to walk by one of the more attractive women working in the facility. It is a location where they regularly group together and work. As a man, that location is a war zone against my heart and my marriage.
Now don't get me wrong, I am in no way saying there is anything bad or wrong with these women. I'm sure they are well respected and very hard workers. The issue is with me, it is with my heart. I know how my eyes work and I know how hard they are to control when faced with such intense artillery.
Now, the thing about this war zone, is that it is expected. I have walked that corridor many times and I know what to expect. I know the women I could possibly see and I know it will be hard for me to not look or even glance.
So with that and mind, and still standing there in that hallway, God shows me the 10%. He helped me realize that if I go up about another 100 ft, I could lower my chance of running into a war zone by 85%. Meaning with just a little bit of extra effort, I could still get my work done effectively and not have to face a possible heart failure. I now walk a different path each day.
FACING YOUR WAR ZONES
My example is just one of many war zones that I have to face everyday. And as I shared my heart above, I challenge you to take a hard look at the war zones you face everyday.
Maybe you face a similar war zone like me? Is there a location of heavy artillery that you could be staying away from everyday or are you choosing to walk right into open fire? Open fire will only take deadly shots at your heart and will slowly break you down. Choose the 10%. Choose to go around. Choose to take the long way. Choose to honor God.
This is the first of many articles to come about a Man and his War Zones.
Take a moment and consider your war zone… What is one area in your life that is a war zone and needs immediate and emergency attention? Let's get into it below.