My boss walked into the office the other day and threw down a set of building prints. He told me to take these for the day and memorize them. At the end of the day he would take the prints away from me and tell me to start building. Imagine, even a small building, having to go through about 30 pages of drawings for a few hours and being told to build that building over the next 6 months. It's not practical, it doesn't make sense and that's not how it works.
Don't we do something similar to this scenario every week? I'm not talking about your work or family, but in your relationship with Christ. Every Sunday comes around and you know the schedule, or at least your should as a leader. You attend the Church service, shake the hands, attend the small group, get your "fill" and move on. Let's even say you attend an evening class or service. Great job! Now it's time to hold your breath for the rest of the week. Sunday will come again and you'll get your cup filled. It's not practical, it doesn't make sense and that's not how it works.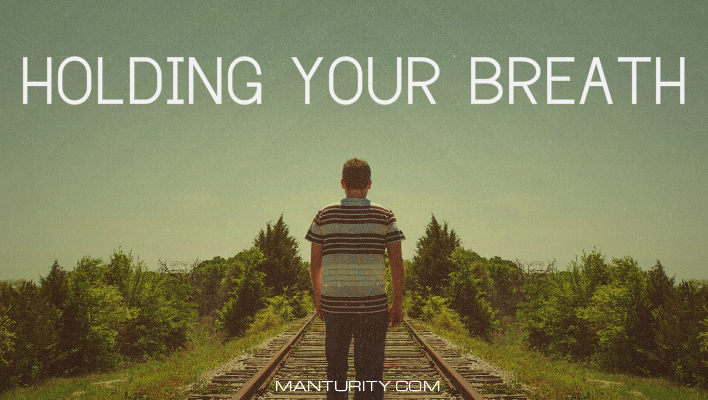 Who are you fooling? Who's buying into your methods? Well, it's certainly not Jesus. If you're married, you're definitely not leading the way God has called and meant for you to lead. And if you have children, your example speaks volumes. Quit holding your breath and start taking the lead. [TWEET THAT] 

"You have persevered and have endured hardships for my name, and have not grown weary." Revelation 2:3
Here are 3 easy ways you can start being a better man Monday-Saturday.
1) EVERYDAY START
Here's a great quote from my Pastor that should be enough said, "You overcome all the pulling and chaotic voices during the day, by starting your day with Jesus." –Shawn Franco
Make your everyday start pleasing to Jesus.
2) EVERYDAY ATTITUDE
Once you started your morning with Christ, you now have the opportunity to check your attitude. Is it being effected by past events? Do you have a pre-determined idea of who you're going to see and base that for your attitude? Remember Jesus, carry a specific verse with you and display the attitude of Christ in all you do.
Make your everyday attitude pleasing to Jesus.
3) EVERYDAY RELATIONSHIPS
How will you start the day with your spouse? If it was bad the night before, will you continue it into the next day? How will you treat people you work with or come into contact with? Will you display the attitude of Christ or will you treat them the way they treat you? However they treat you, your desire in the relationship should be to represent Christ. I'm not saying this will be easy…
Make your everyday relationships pleasing to Jesus.
What do you do Monday through Saturday that keeps your relationship growing with Jesus? Share in the comments to give everyone some great ideas!