2013 was a great year for the Manturity Blog. I want to thank everyone for all of the support, the comments and the encouragement! The Manturity Blog was updated with a brand new, great looking website and is also being featured on various other sites. God is good!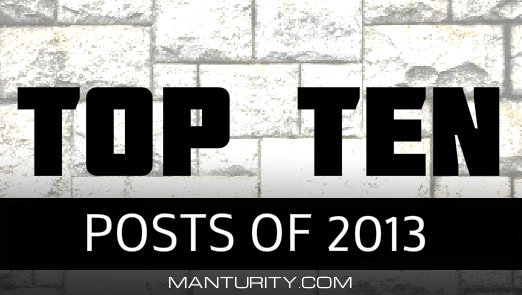 As a quick way to look back at 2013, here are the TOP TEN posts based on social media shares. Enjoy and check out some of these great articles if you missed out on them.
1) The 5 Big Needs of a Husband
As one of the first posts featured on the new site, this article took off last year with almost 600 shares. It's a must read.
2) How to Have Amazing Sex Every Week
The topic of great sex should be a topic more discussed among the Christian community. Look for more articles on sex in 2014.
3) 5 Reasons to Write your Wife a Love Letter
This post is the most viewed guest article ever on the Manturity Blog. Gents, read this post and boost your marriage in 2014!
4) A Short Drive Down a Long Road
After a long morning at work, God had a message I needed to hear. A great read if you don't like the road your currently on.
5) 7 Reasons to Engage in Men's Ministry
If you're involved in your Men's Ministry or trying to get something started, this awesome guest post is a must read.
6) Jesus: The Alpha Male
Another powerful guest post, this article compares the manliness of the outdoors with the alpha male nature of Jesus Christ.
7) How to Resolve the Blame Game in Your Marriage
If 2013 was a rough year for your marriage, this post is a must read. Make 2014 great by resolving the blame game today!
8) Manturity Manhood Quotes Vol. 4
With the new site, came the new category titled "Quotes." I love this section and think you will too. Look for more original quotes in 2014.
9) How to Make Your Marriage Last
Finally, a feature post written by my wonderful wife. This post is a powerful read every married couple should read. Start strong in 2014!
10) 5 Essential Tools for your Christian Walk
Being a builder by trade, this was a fun and easy post to write. If you're looking for solid tools for 2014, read this post today!
What was your favorite post of 2013?
What would you like to see more of in 2014.