What if I told you there was a way to find help for your problems. Would you be interested?
What if there was a way to share a struggle, a deep secret, a dark moment, a bad addiction or just need some prayer. Would you be more interested?
What if you could do all of this without telling anyone your real identity. Do I have you convinced yet?
If you could do all of this, would you finally share what has really been on your heart? What you really need help with, but won't tell anyone?
Good. Keep reading…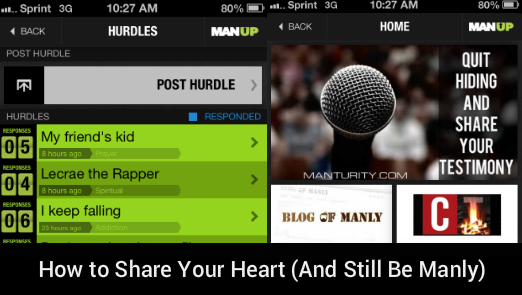 My Personal Story of Failure and Success
When my marriage was on the brink of divorce and my integrity was crumbling, I felt like there was no one to turn to. The truth was that I was ashamed. I did't want to talk to anyone I knew because I didn't want to let them into my dark lies and failing marriage. I was young, dumb and immature.
So what did I do? I searched for answers on the internet. I searched out relationship forums and sites. I expressed my concerns and shared my story. Waiting for someone to embrace and respond. I never got the answer I was looking for and, yes, never considered God.
In desperation, I finally reached out to a local friend and my pastor. Although ashamed, I knew they would supply me with Godly advice and challenging things to consider. My eventual honesty and willingness to accept help made all the difference.
A Better Solution for You
Almost a year ago now, I stumbled across an amazing new way for men to connect, share and grow. I came across an App for your phone called "Man Up Gods Way". Oh and ladies, check out the women's version called REFLECT.
Man Up Gods Way is an App built by Christian men, but made for every man. This App is the resource men may have not been looking for, but absolutely need. I wish I would have had something like this when I was struggling.
Here are 5 reasons you need to get into this App.
The HURDLES: Post about anything your struggling with while being completely void of revealing who you are. Men from all over the world are there to offer some solid advice.
The RESOURCES: New articles are featured every week from awesome sources and on various topics. All dealing with men.
THE CHALLENGES: New challenge videos are featured every week. No more lame week to week of the same thing, now you will have a challenge to live up to.
The GROUPS: Join men in your area or on a particular subject and get into the details. Build your own if you can handle it.
The RELATIONSHIPS: With thousands of men already on the site, you'll be able to build strong relationships with other like minded men. You'll be able to share your heart, without losing your manhood.
Don't just sit there, download the Man Up Gods Way App today!
What are some of your favorite resources that can help men grow?