I can't move my fingers on this keyboard and not be honest, when it comes to t-shirts made for Christians, especially Christian men – I am bored. I can't do the big and bold text, the full front images or the cliché phrases. I just can't do it. So here's what I am doing about it…
Introducing Manturity Apparel! Keep reading for a free giveaway!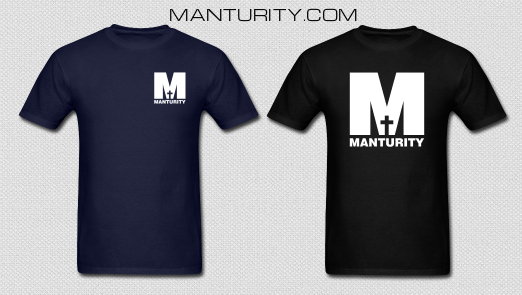 WHY I STARTED 
A couple months ago when I launched the new Manturity site, I whipped up a Manturity Tee for a free giveaway. The shirt was given away once Manturity reached 50 subscribers. In less than one week, the shirt was in the mail and off to a happy new subscriber.
Then I started getting asked, "where can I purchase one of those shirts?"
Well, to be honest, only 4 of them existed and yes, one is being given away at the END OF THIS POST!
Anyway, my goal behind Manturity Apparel was to design t-shirts for men and women that are simple and yet very effective. The designs and writing are not overly bold or excessive, but they get the point across. In all honesty, I designed shirts that my wife and I both agree we would wear. See if you can guess which ones are our favorite marriage shirts.
HOW IT WORKS
For the moment, Manturity Apparel will be operated through the "Spreadshirt.com" platform. Spreadshirt allows you to build your own store, design your own tee's and make a commission. So the answer is yes, I will make a small commission off the shirts. This will aid the Manturity Blog to grow and serve the Kingdom more effectively!
WHAT TO EXPECT
I have personally purchased a few of these shirts to test them out and see how they look and feel. My wife and I both were very impressed with the quality of the shirt and the designs on them. I think you will love them too!
There are currently over 30 designs featured in both black and white images (total of 60+). The shirts are featured in a particular color, but they can be changed to whatever color you like. Also, there is typically writing or designs on the front and back or sleeve, so be sure to click on the shirt and check them all out.
It gets better! Each month, there will be new designs rolled out for you! Hopefully at least 5-10 new designs will be featured. Some of these feature designs will be highlighted on the Blog. Free Giveaways will most likely come with these new releases!
Will there be discounts? You bet. Spreadshirt recently featured the discount of spend $50.00 dollars and get $10 off. They also featur very low cost shipping rates. I will keep you up to date when these sale options show up.
HOW TO WIN NOW
You only need to do two things to win the t-shirt featured below.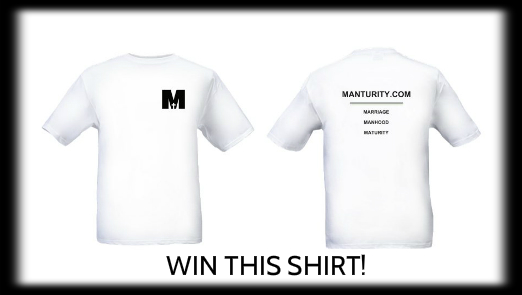 1) Share the awesome news of Manturity Apparel with your friends via social media. Use the media links at the bottom of the post or use this pre-built tweet!
Free Manturity T-Shirt Giveaway and Shop Launch! Click here to enter! (TWEET THIS)
2) Leave a comment below about which shirt in the shop you would love to wear and why. Click here to visit.
This shirt can now be purchased as well!
That's all you need to do! What are you waiting for? The winner of the giveaway will be announced on Friday! So get sharing and get wearing!